B-Fixed® Tracking Solution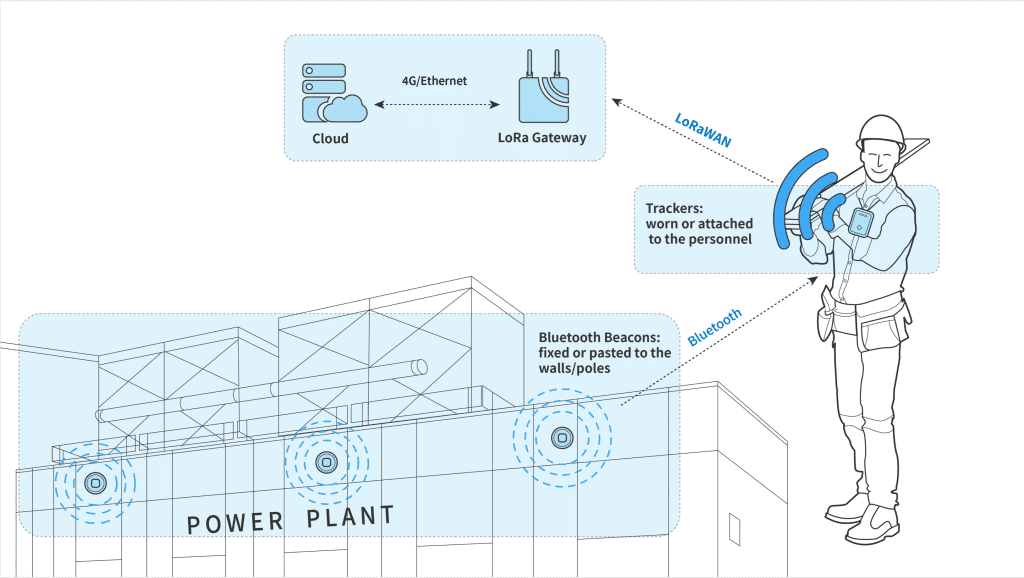 Lansitec B-Fixed (Beacon Fixed) solution is an innovative integration of trackers, Bluetooth beacons, and a LoRaWAN gateway. This solution uses Bluetooth beacons as fixed reference points and trackers as mobile devices attached to assets or people. The tracker activates Bluetooth reception at regular intervals. If it detects one or more beacons, it sends their RSSI, major, and minor values to the LoRa gateway and then to the cloud. If it fails to detect any beacon, it switches to GNSS (GPS, Galileo, Beidou) module for outdoor tracking. Beacons can be installed indoors or outdoors to enable Bluetooth tracking in any desired location. Bluetooth tracking consumes less power than GNSS tracking and may be preferred in some scenarios. Some of the typical use cases are:
1. Asset Tracker
Product: Outdoor Asset Tracker
Before each LoRa report, install Bluetooth beacons at fixed locations, such as on ceilings, walls, pillars, or in rooms, and attach trackers to assets. The tracker can transmit up to 120,000 BLE tracking messages or 20,000 GPS coordinates. It is ideal for tracking pallets, vehicles, or containers indoors and outdoors.
 2. Container tracker
The tracker can send around 180,000 Bluetooth tracking messages or 32,000 GPS coordinates. It supports magnet switch, temper detection, movement duration report, asset management with Bluetooth beacons (maximum 100 beacons), individual intervals for GPS, and Bluetooth tracking to optimize the battery life.
It is perfect for logistics, containers, pallets, vehicles, or container tracking.
With this tracker, you will get to know:
1. Where the asset is.
2. How long a machine moves in the past hours.
3. Whether it is removed from the asset or not.
4. Which and how many assets are in the container, and where they are.
5. A Maximum of 20 offline position messages when LoRa network is disconnected.
This tracker has a high capacity for Bluetooth and GPS data transmission, with up to 180,000 Bluetooth messages or 32,000 GPS coordinates. It features a magnet switch, a temper detection sensor, a movement duration report function, and a Bluetooth beacon-based asset management system (up to 100 beacons). It also allows for customizable intervals for GPS and Bluetooth tracking to enhance battery performance. This tracker is ideal for tracking logistics, containers, pallets, vehicles, or containers. It enables you to:
1. Locate the asset precisely.
2. Measure the movement duration of a machine in the past hours.
3. Detect any tampering or removal of the tracker from the asset.
4. Identify and count the assets in the container and their locations.
5. Store up to 20 offline position messages when LoRa network is unavailable.
3. Badge Tracker
The badge can deploy beacons as in Section 1 for indoor and outdoor tracking with 16K BLE messages or 2.5K GPS coordinates. It tracks visitors, construction workers, and security guards in various environments. The panic button and fall detection features enable worker tracking in hazardous locations such as chemical plants, oil rigs, wind farms, or offshore sites. Also, it supports asset management features by reporting nearby asset beacons to a LoRaWAN gateway. You can also use it to detect asset beacons for asset management, or Lost and Found.
4. Helmet Sensor
The sensor is easily mountable and removable on any helmet. It enables safety and management features to reduce management costs and enhance worker safety.
Picture
Key Features:
1. Helmet Wearing Detection
The sensor monitors the helmet wearing status and sends an immediate alarm when it is removed.
2. Fall Detection
It sends an immediate alarm message when the fall is higher than the threshold. The height is adjustable.
3. Floor Level Detection
The sensor detects the floor level of the worker without requiring any beacon.
4. Alarm Feature and Panic Button
The sensor supports search and rescue mode even in offline scenarios. The alarm can be activated via phone or Bluetooth beacon.
5. Indoor and Outdoor Tracking
The sensor supports Bluetooth, GNSS tracking, and geofence functionality.
6. Four Months Battery Life
7. Easy Management
The sensor supports NFC for convenient management (distribution and return), IP66 housing, and FOTA over Bluetooth for customized features.
8. Asset management
You can also use it to detect asset beacons for asset management, or Lost and Found.
B-Fixed is an ideal solution for people and asset tracking in industrial and urban settings due to its easy deployment, long battery life, low TOC, and long-distance functionality.

Deploy Bluetooth
Beacons in fixed
locations, for example
a checkpoint or room.
Beacon sends UUID, major, minor .etc. periodically. The maximum transmit
distance is 50m.
Badges and other trackers receive beacon information and forward it to LoRa Gateway. Transmit distance is longer than 1km.
The server calculates the coordinate and displays it in the APP.