A temperature and humidity sensor is one of the best electronic devices that checks the temperature of its surroundings and changes the input information into electronic information to record monitor or signal temperature changes. Now, there are various types of temperature sensors. Easily avail a variety of Temperature & Humidity sensors which includes Humidity Controller Module, Digital Microcomputer Thermostat Switch, high-temperature resistance Probe, Moisture Sensor, and many more modules.
In many industries, there are various Temperature sensor applications such as motorsport, HVAC, medical, agriculture, industrial, aerospace, and automotive. With so many applications where supporting a particular temperature is important there the temperature sensor is used, for example, if products must be kept at a certain temperature, the reactivity and accuracy of the temperature sensor are critical.
Lansitec LoRa temperature sensor is a low-cost temperature and humidity sensor which can be used indoors or outdoors to monitor these attributes. Various configurable parameters allow you to tweak data reporting and set alarm thresholds in this device. The indoor sensor operates on the LoRa network whether it is a public or private network. It is energized by a battery allowing several years of autonomy. It does not need any wiring, neither for its power supply nor for the data communication.
Like most other LoRa sensors, this device also allows monitoring of battery % remaining for most variants of this device. This sensor evaluates temperature and humidity, with a wonderful servicing as a free lifetime of 5 years at a 5-minute measurement interval. Configurable over the air, quite easy to use, and elegant in design to fit into indoor spaces.
Read :Lansitec Empowers Smart Personnel & Asset Management with LoRaWAN
It permits the users to send data and reach extremely long digital ranges. It gives ultra-long range spread spectrum communication and high interference immunity whilst minimizing current consumption. It has high reliability and outstanding long-term stability. Lansitec LoRa provides exclusive digital signal acquisition techniques and temperature & humidity sensing technology.
It gives digital output and can be interfaced with a microcontroller and get instantaneous results. It is a low-cost temperature and humidity sensor which gives high reliability and long-term stability. It utilizes the best humidity sensor and a thermistor to measure the surrounding air and outputs a digital signal on the data pin. It is very simple to use, and libraries and sample codes are available.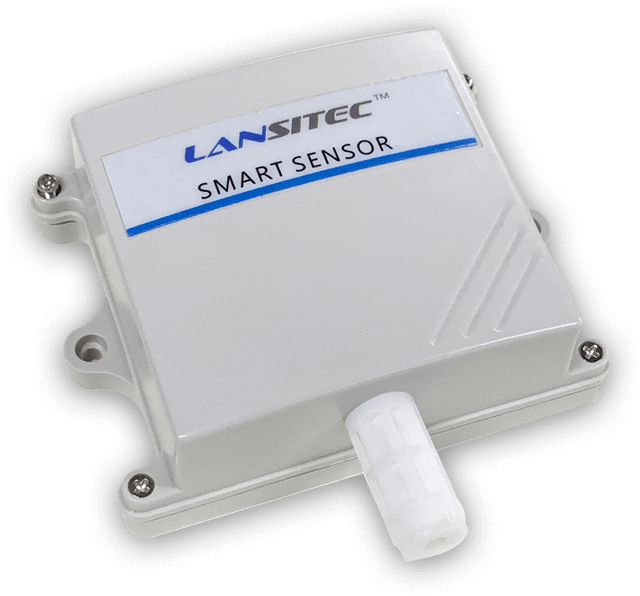 LoRa Temperature Sensors are long-range devices with built-in sensors and external sensor connectors. Mainly the external sensor connectors can be utilized to connect soil moisture sensor, temperature sensor, and tilting sensor. It gives an extreme-long range spread spectrum communication and maximum interference immunity while minimizing current consumption.
Highlights the Specifications :
Energized by lithium thionyl chloride battery: 5 years of operation for 1 uplink 5 minutes.
The operating temperature: -40°C to +85°C.
Outdoor use: IP65enclosure.
Main accuracy: ±5% RH typically from 0% RH to 99% RH at 25°C, ±0.3°C typically from -40°C to +125°C.
LoRaWAN well-suited: Class A, uplink rate programmable from 10 seconds to 24 hours.
Parameter report interval is adjustable
Convert uplink cycle via wireless, configurable by a server via downlink command
Some of the operating frequency bands (Option at order):

470MHz, < 50mW radiated power
868MHz, < 25mW radiated power
920MHz, < 25mW radiated power
Applica>Applications:
i>Wireless Alarm and Security Systems
Food monitoring
Home and Building Automation
Automated Meter Reading
Industrial Monitoring and Control
Long-range Irrigation Systems, etc.
Heat allocation
Indoor climate control
Building damage prevention
How to >How to select the best sensor for temperature and humidity?
ous
temperature and humidity sensors
have large performance differences and large price differences.
Read: LoRa & Bluetooth Low Energy Based Indoor Location Tracker
Measure Range

If you measure weight and temperature, the choice of the humidity sensor must first determine the measurement range. Besides forecasting and scientific research departments, temperature and humidity measurement and control generally do not require full humidity (0-100% RH) measurement. Generally, the wider the range and the higher the price, just choose the range that meets your requirement.

Humidity Accuracy

The measurement of accuracy is the most crucial index of the humidity sensor. For every percentage point enhancement, it is a step or even a grade for the humidity sensor. Several corrections are to be achieved, their manufacturing costs vary greatly, and their selling prices vary widely.