Products & Services > Tracker >
Lansitec Badge
LANSITEC BADGE
---
Tracker
---
GNSS, Bluetooth, and LoRaWAN
Lansitec badge is designed based on GNSS, Bluetooth 5.0 and LoRa technology. It supports indoor and outdoor tracking. The badge is mainly used for personnel and asset management.

Its built-in 3-axis accelerator could be used for determining the motion status of the terminal. Therefore, it can help save battery and enhance user experience.

It is suitable for the following use cases: visitor management, factory worker tracking, construction worker tracking, vehicle tracking etc.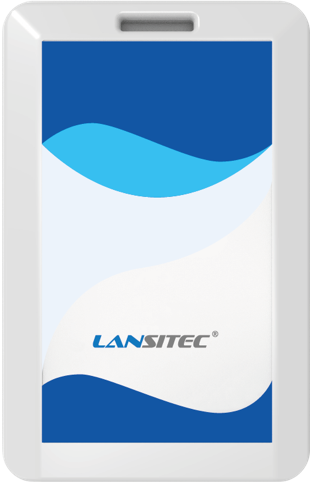 Lansitec Badge
Compact Design
Multi-functional
Low-cost

Accurate Positioning
Indoor Tracking: Bluetooth, 1~3m precision Outdoor tracking: GNSS, 2.5m precision Geo-fence

Multi-functional
3-axis-accelerator, and illegal movement alert are supported

Low Cost
Once the LoRa environment is built, there will be no network surcharge

Long Standby Time
The positioning interval is adjustable, standby time can be extended to 5 months
Parameter
Specifications
Outdoor Tracking
GNSS, 2.5m accuracy
Indoor tracking
Bluetooth, 1~3m accuracy
Protocol
LoRaWAN1.0.2B/ Bluetooth 5.0
LoRa Frequency
US915, AU915, EU868, EU433, AS920-923, AS923-925, RU864, ID920,
KR920, IN865, KZ865, CLAA, CN470, CN470-Ali
LoRa Sensitivity
-139dBm @SF12, BW125kHz, 434MHz/470MHz
-137dBm @SF12, BW125kHz, 868MHz/915MHz
LoRa Distance
> 1km in urban area
Bluetooth Distance
~25m sight distance
Operating Current
20μA ~139mA
Encryption
AES128
G-sensor
Supported
Low Battery Alert
Supported
Power Supply
600mAh rechargeable battery
Charge Jack
Micro USB
Standby Time
Maximum 5 months
Operating Temperature
-10℃~+60℃
Storage Temperature
-40℃~+85℃
Dimension
97 × 62 × 7mm
Certifications
CE, FCC, RCM
Operating Mode
GNSS coordinates acquisition frequency adjustable
LoRa communication frequency adjustable
Automatic BLE and GNSS tracking switching